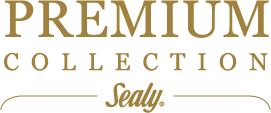 Grand Centurion
A stable, supportive feel throughout. Our UniCased® XT is built for extra edge support. With ComfortCore® layer and SRx II Titanium® Coil, it provides personalized support and comfort to your spinal cord. To achieve a truly rejuvenation restful night's sleep for the body.
Available at Wing On
Medium
From HK$28,880
出眾特色及專利技術
Edge Support
Patented Coils
Unique
Comfort
SRx II .Titanium® Coil
An upgrade from the Posture Tech® coil, the SRx I® coil, offers enhanced responsiveness and support. The design tracks the smallest change in your contours and .cushions your body weight seamlessly.
UniCased® XT Edge Support
UniCased® XT is our most advanced edge support system. Surrounding the perimeter and base of the mattress, and its coil-inspired, channel-edge design responds to weight gradually. With keys locking into the inner spring, plus a wider edge, it ensures even more stability.
ComfortCore®
These multiple, stress-relieving materials conform to and support your spine, whether you are lying on your back or side. Soon, you will experience less back pain.
Suitable for one
91 x 190 / 203
One person who wants a little more space
105 x 203
Designed to sleep two adults comfortably
138 x 190

Plenty of room for two. Suitable for larger bedrooms only
150 x 200
152 x 190 / 198 / 203
If you and your partner often share your bed with pets or young children, this is probably a good fit for you
180 x 200
183 x 190 / 198 / 203
183 x 213
The king of kings, the largest of them all. A luxurious sleeping experience
193 x 203
200 x 200
200 x 220
*The above measures are approximate. A variance of +/- 2cm should be accepted.