Premium Collection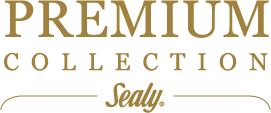 The Premium collection offers a diversity of designs, all backed by our patented coil design and innovative Unicased® construction. Specially made to keep your spine in a natural, aligned position, Premium mattresses also absorb movements to provide harmonious comfort and support for you and your beloved partner.
出眾特色及專利技術
Patented Design
Smart Fabric
Stress Relief
PostureTech® Coil
Based on ergonomic design, the PostureTech® coil responds to body weight and pressure, and adjusts its support so your spine is naturally aligned and your body is relaxed.
UniCased® Edge Support
UniCased® is an advanced edge support system, using air cushion design to release body pressure. It ensures side support and greater stability all round, so even if you always get out of bed on the same side, your mattress will not slump. It also increases the sleeping space.
Quality Comfort Layer
Stress-relieving comfort layer minimises the pressure points on your body, so your whole body can relax and get to a good sleep.